Due to COVID-19, the University Center is open to current students, faculty, and staff ONLY. The Fitness Center remains closed until further notice. The Pool is open limited hours for current students Only. Grant Gymnasium has limited access for individual workout stations and other scheduled activities and classes.
Before coming to the University Center, you must complete the Health Self-Assessment Form.
Stay Connected
Social, Educational Recreational
We welcome you to the University Center. Known as the "living room of the University," this is your place to meet with friends, eat, attend events, watch the Gorloks in action, study and hang out. The UC is home to many departments. Whatever your interests, you'll find resources and information to support your experience at Webster.
Amenities
The Fitness Center is currently closed due to COVID-19. Please read below to learn more about exercise space available in the Grant Gym.
The Webster University Fitness Center and Gymnasium provide exercise space for all students, faculty, staff, and members of Webster University free with a current ID. A Fitness Center Attendant is available during all open hours to assist with check-in, equipment, and other needs.
Fitness Center Phone Number: 314-246-7727
Fitness Center Email: fitnesscenter@webster.edu
Grant Gym Individual Workout Stations
Grant Gym is available to all current Webster students to use for Individual Workout Stations. Please review the schedule and policies below:
Policies:
Only current Webster students will be allowed to use the gym for individual workouts. No staff or faculty at this time.
Users will be asked to show their university ID card before entering the gym area.
All users should wash or sanitize hands before entering the gym.
Users must wear a face mask / face covering at all times.
Every individual should disinfect their workout block upon entering and leaving.
No equipment is available. Users must bring their own equipment.
Individuals may not share equipment.
Users should arrive in their workout attire.
Locker rooms are not available.
Only water bottles are allowed. No food.
During high volume times, individuals will be limited to a 1 hr. time limit in their space.
The gym will be configured with nine 10'x10' workout squares, two running lanes, and two baskets. These spaces will all be separated by 12 feet. Upon arrival, a gym monitor will assign the user to a numbered space to use for the duration of their workout.
Schedule:
Fall II 2020 Schedule:
Monday through Friday

: 10am-2pm
If you have any questions about the Individual Workout Spaces, please email websteruc@webster.edu.
Memberships
The University Center offers memberships for use of the Swimming Pool and Fitness Center. If you would like assistance completing the online form for memberships, please see the staff at the Information Center. More information about our memberships is here.
Guest Fees
Students, faculty, staff and members are allowed to bring one guest per visit for a $5 per day fee. The host must remain with the guest at all times and is responsible for them during their visit.
Gym Schedule
The Grant Gymnasium schedule is viewable online through our Virtual EMS calendar. Click here: http://ucreserve.webster.edu/VirtualEMS/ and then select "Browse for Availability - By Date." Note that this calendar shows all meeting rooms in the University Center in addition to the gym.
Policies
Webster University Fitness Center & Gymnasium Policies
Waiver
At this time, the Pool is OPEN ONLY FOR CURRENT STUDENTS ON MONDAYS, WEDNESDAYS AND FRIDAYS FROM 8AM-11AM.
In order to maintain a safe environment, here are some protocols to be prepared for when you come to swim:
You can reserve your time slot in advance by using calendly.com/ucpool.
Locker rooms and full showers are NOT available. Please arrive in your swimsuit and be prepared to return home to change. On-deck shower head is available for rinsing before entering the water.
Only one person per lane. 6' social distancing must be maintained at all times.
Must have a current Webster ID card to enter.
Lifeguard will ask patrons about any new or worsening symptoms related to COVID-19.
All users must wash or sanitize hands before entering the pool area.
During high volume times, individuals will be limited to a 1-hour max time limit.
The sauna will remain closed until further notice.
No equipment will be available to check out from the lifeguard. Patrons must bring their own equipment. Individuals may not share equipment.
Patrons must wear a mask at all times unless they are in the pool.
Patrons may place their belongings in designated bench areas around the pool deck. Patrons are required to disinfect their bench area before and after they occupy the space.
All regular policies remain in effect: Webster University Swimming Pool Policies and Regulations
The University Center offers flexible and convenient spaces for various types of meetings and events. For room types, capacity and reservatons, visit our reservation page.
Lower Level
Pool
Fitness Center & Gymnasium
Upper Level
Information Center
Dean of Student Affairs Office
Crossroads Dining
UC Commons (The space with the flags)
Meeting Rooms (including Sunnen Lounge, Presentation Room, and Conference Room)
Student Leadership Center (including Campus Activities and Student Government Association)
Ask Us Anything!
The Information Center is located on the upper level of the University Center. It is staffed by Student Building Managers, and these individuals are trained to help the patrons of the University Center with anything and everything.
Room Set-Ups and AV Needs
The Student Building Managers maintain the meeting rooms of the University Center and can assist with room set-ups and AV needs for scheduled events.
Semester Stickers for ID Cards
The Information Desk can verify your status as a current student, faculty, or staff member at Webster University and issue a current semester sticker. This sticker allows you to use the Fitness Center, Pool, Gym, and Library on campus. It also allows you to get the "UPass" for using the St. Louis Metro System from the Cashier Window in Webster Hall. For students, it also makes you eligible for student discounts at locations that offer them (such as movie theaters).
Memberships
The University Center offers memberships for use of the Swimming Pool and Fitness Center. If you would like assistance completing the online form for memberships, please see the staff at the Information Center. More information about our memberships is here.
Due to COVID-19, The University Center is open to current students, faculty, and staff ONLY.
Hours of Operation for Fall 2020
Upper and Lower Levels
Monday - Thursday: 8am-8pm
Friday: 8am-6pm
Saturday - Sunday: CLOSED

Crossroads Dining (featuring Freshens, WOW, and Hissho Sushi)
Monday - Thursday: 11am-8pm
Friday: 11am-3pm
Saturday - Sunday: CLOSED

Pool
Mondays, Wednesdays, Fridays from 8am-11am for Current Students Only
Fitness Center
CLOSED

Grant Gymnasium
Limited access for scheduled activities only.
Individual Workout Stations and Basketball Hoops available to Current Students Only Monday through Friday from 10am-2pm
Additional changes have been made to help keep users safe during the COVID-19 pandemic. Please review this information prior to visiting the University Center.
Access and Health Screenings
ID card point of entry swipe is required for accessing the University Center. (Stop by Public Safety at 572 Garden Ave. if you encounter problems using your card.)
Before coming to the University Center, you must complete a health self-assessment.
Users may only enter the University Center through the Lower Level entrance off Parking Lot H or the Upper Level entrance off the Quad, and show the attendant their access verification email received after completing the health self-assessment. If an individual has not completed the health self-assessment, the attendant will conduct a screening before the user can proceed into the building.
The attendants will also conduct a temperature screening of all individuals entering the University Center.
Aside from these two designated entrances, all other exterior doors will have card access turned off.
Face masks or face coverings required at all times (unless individual is working alone in an enclosed area or cannot wear a face mask due to a medical condition).
Rooms and Materials
Furniture and seating have been rearranged to ensure 6-foot space distancing. Furniture should not be moved by building users.

Meeting rooms will have reduced occupancy and default set-ups.
Information tables will not be allowed in the University Center Commons.
Locker room showers and locker areas will remain closed.
Restrooms will have reduced occupancy.
The computer stations and microwave on the upper level will be blocked off and unavailable.
Crossroads Dining
Pre-ordering will be available and strongly encouraged to enable users to pick up food in take-out containers.
Floor decals will be in place to maintain traffic flow and a 6-foot distance.
Plexiglas barriers will be in place at service areas.
Seating will be limited with one person per table and a 6-foot distance between tables.
Cleaning/Disinfection
Disinfectant cleaners and hand sanitizers will be available throughout the building. Users will be asked to disinfect surfaces before and after use.
There will be frequent disinfection of high-touch surfaces and common areas of the facility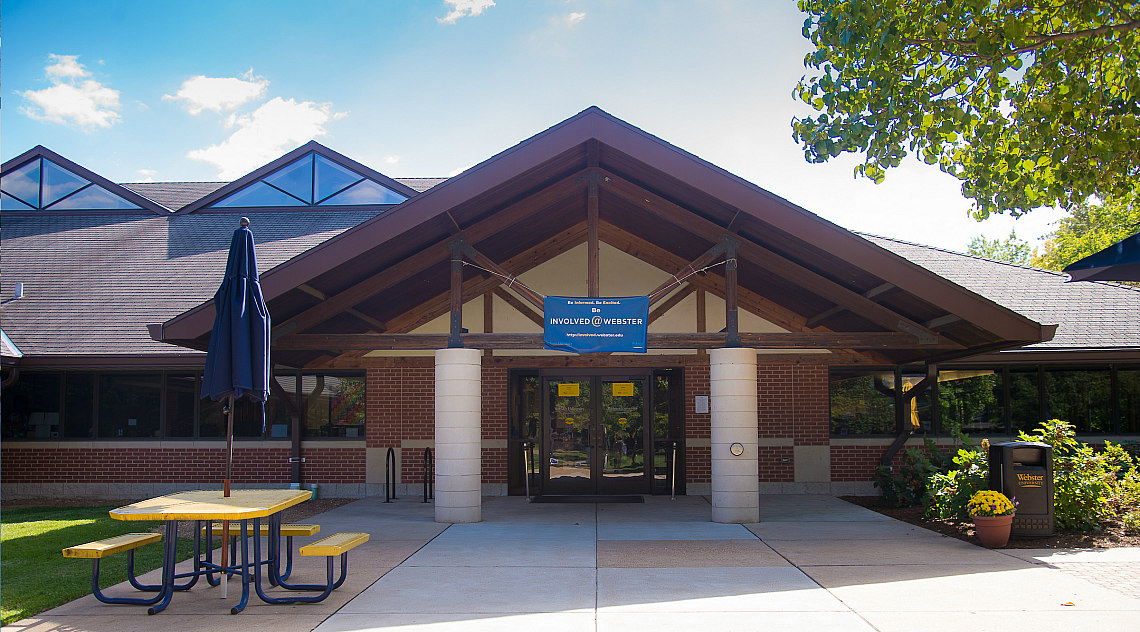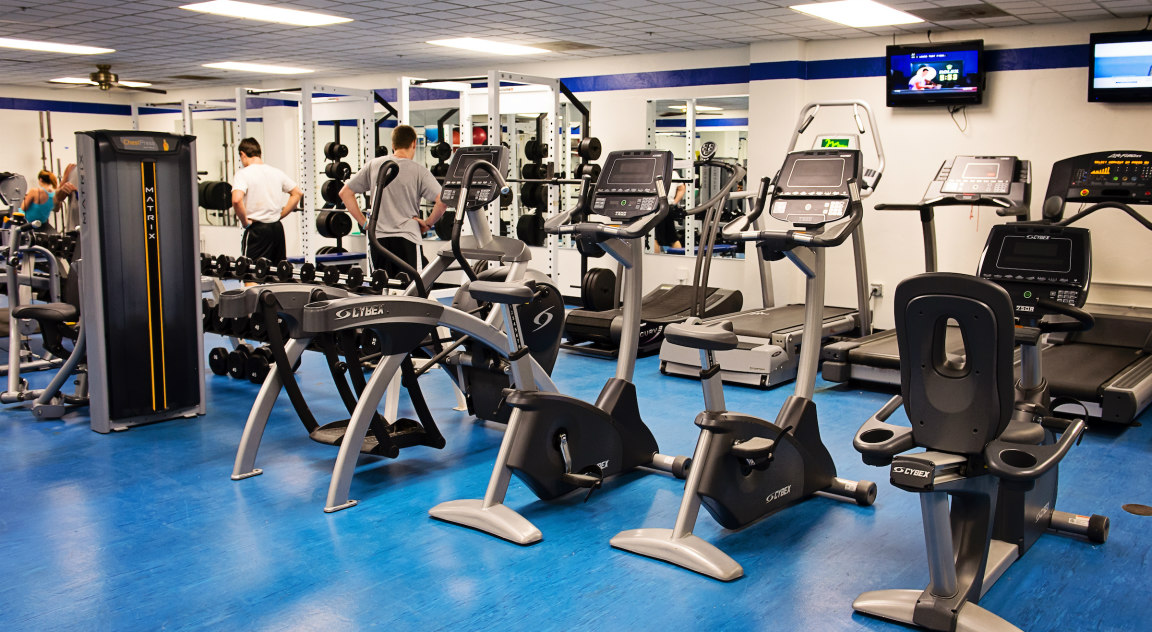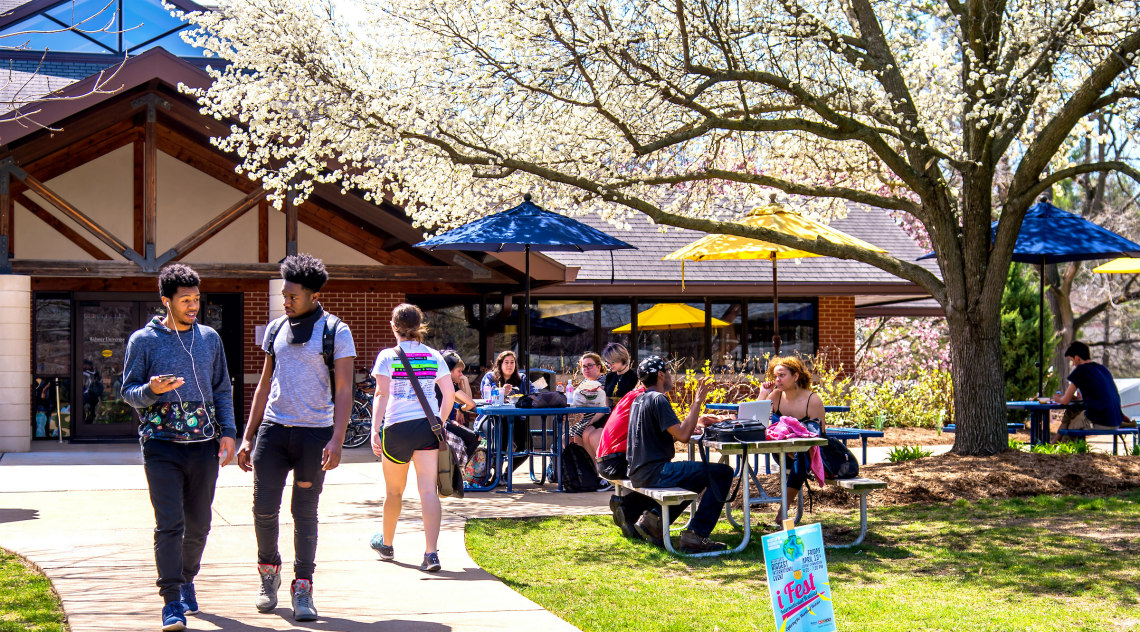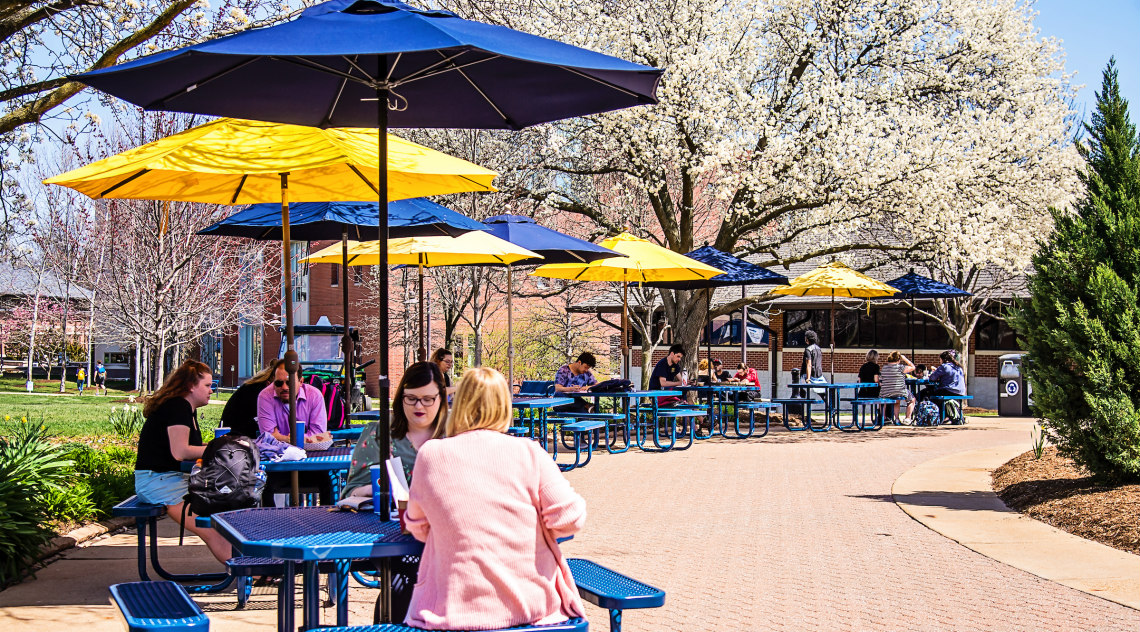 More Information
Katie Knetzer
Director of the University Center
314-246-6978
mccombka@webster.edu

Katie supervises all units within the University Center. These responsibilities include the Information Desk, the Fitness Center, the Pool, and Meeting Room Reservations. She also co-advises the Dining Advisory Board and liaisons with all the departments that utilize and interact with the University Center.
Josh Perreault
Coordinator of Aquatics and Fitness
314-246-7732
joshuaperreault@webster.edu
Josh oversees the fitness and aquatic center for the University Center. He also manages the swim lesson program and all other aquatic programs.
Coordinator of Athletic Facilities
314-246-7866
The person in this position oversees gym scheduling, coordinating scheduling of athletic team practices and games in addition to non-athletic use of the gym. In addition, they help to maintain the athletics facilities within the University Center.



Elena Hutson
Pool Student Supervisor
ucpool@webster.edu



Kathleen Matecki
Fitness Center Student Supervisor
fitnesscenter@webster.edu


Matt West
Information Center Student Supervisor
websteruc@webster.edu



Nicole Shapiro
Information Coordinator
websteruc@webster.edu



Kylie Burke
Patron Services Coordinator
314-246-7105
memberships@webster.edu
ucreserve@webster.edu
The Patron Services Coordinator is responsible for memberships and room reservations. This individual processes all membership forms that are submitted, prepares the membership ID cards and parking permits, and coordinates all communication with members. This individual also assists the Director of the University Center with the management of building reservations and rentals. This includes approving requests, reviewing set-up needs, communicating with patrons and staff, and marketing the availability of rentals.


Abigail Edgar
Swim Lessons Student Supervisor
314-246-7970
swimlesson@webster.edu
The Swim Lesson Student Supervisor coordinates the Webster University Center Swim Lesson program. This includes scheduling and supervising Swim Lesson Instructors, overseeing lessons, communicating with participants, and managing registration.


Student Building Managers
Information Desk
314-246-7105
Student Building Managers operate the Information Desk of the University Center, perform set-ups for meetings, and are responsible for the day-to-day operations of the building.

Wilkinson Fitness Center Staff
Fitness Center
314-246-7727
Fitness Center employees monitor the usage of the Center and provide general upkeep of the machines. They also monitor the gym and check out gym supplies for recreational use.

Pool Lifeguards
Pool
314-246-7755
Customer service and daily operations are the lifeguards' major responsibilities, falling right behind the No. 1 priority of patron safety.
The University Center Board (UCB) assists the University Center staff in providing for the services, conveniences and amenities the members of the University family needs on the campus, and in promoting community through informal association outside the classroom. In all its processes, the UCB encourages self-directed activity, giving maximum opportunity for self realization and for growth in individual social competency and group effectiveness. Its goal is the development of persons as well as intellects.
President: TBA

Advisor: Director of University Center: Katie Knetzer (mccombka@webster.edu)

Functions
Serve the University Center and the University community through the enactment of UCB policies consistent with the mission of Webster University, the University Center, and the philosophy and purpose expressed in the "Role of the College Union," the official statement of purpose of the Association of College Unions--International, adopted at the general conference of the Association in April, 1956, reaffirmed in 1964, 1986.
Offer guidance in the organization and administration of facility policies and services in the University Center for the students, faculty, staff, and alumni of the University.
Serve in an advisory capacity to the Director of the University Center with respect to general University Center services and policies. Decisions of the UCB are subject to the authority of the Dean of Student Affairs and the University Administration.
Perform special projects and research functions.
Membership
The UCB shall consist of a student President in addition to the following members, who will serve as advocates for their respective constituencies:
Student Members
Student Government Association
Residential Housing Association
Student Building Manager staff
Fitness Center Attendant
Pool Staff
Campus Activities Staff
Student Athlete Advisory Committee
Graduate Student
Commuter Student
International Student
Faculty and Staff Members
Director of the University Center and Student Activities
Director of Athletics
Coordinator of Athletics
Webster Staff Alliance Representative
Student Organization Advisor Faculty
At-large Faculty Representative
Alumni/Development Representative
Dining Services Staff
Voting members shall include the entire UCB membership, excluding the Director of the University Center. The student President will vote only in case of a tied vote. Voting members could relinquish their voting privileges after two unexcused absences per semester.
Officers and Elections
The UCB shall be governed by a student President, elected by the UCB each spring. The President shall conduct all UCB and Executive Committee meetings. The University Center office shall be responsible for maintaining the records of the Board. The nomination and election of the student President shall take place at the beginning of the second to last UCB meeting of the spring semester. The term of office shall be for one calendar year and shall begin on the first day of the summer term. The President shall be a student elected by a majority of votes from the entire membership.
Quorum
Quorum shall consist of nine voting members, five of whom are students.
Internal Committees
The Executive Committee shall consist of the student President, the Director of the University Center, and two at-large members (one student, one faculty/staff) elected by the Board. This committee's function shall be to convene and act on behalf of the UCB in an emergency situation. Ad hoc committees shall be appointed by the student President in the case of special projects or issues needing focused attention.
Amendments
This document may be amended by a 2/3 vote of voting members present at a regularly scheduled meeting.
Amended Fall 2000
Amended Spring 2002
Amended Spring 2005
Amended Spring 2008